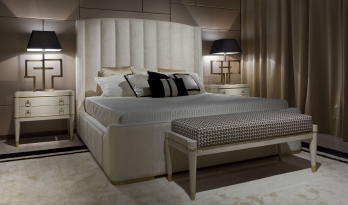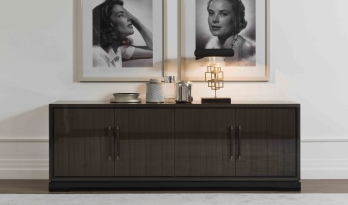 Modern Classicism
The Galimberti family boasts more than a century of tradition in the furnishings industry; indeed, the first workshop opened up in Brianza in the late 19th Century. The current company was set up in the Sixties, thanks to the intuition of Nino Galimberti. The craft-based nature of its origins quickly changed and, from the 1980s onwards, the company took on industrial dimensions and focus. The next step is down to Nino's children, Carlo, Luciano and Roberta Galimberti, who from the Nineties embarked upon an expansion process to establish the brand across Italy and abroad. Responsible for the company's strategies, the new generation of Galimberti shared the creative approach and the styling principles of their products with various architects and designers.
The product rage is inspired by the styles of the past, yet it is presented according to contemporary materials and lines. This is an area of taste inspired by periods such as the Victorian era, Biedermeier, the Empire; recently developed, this project revisits some art déco references and the Italian modernism of the Thirties, Forties and Fifties. With more than a hundred years of history to back it, the concept of classic-contemporary continues to be a success now, more than ever before.
The philosophy of the company, the idea that drives all its designs and collections, is to revisit the very best elements related to Made in Italy wood working.
The Galimberti Nino collections always create elegant dwellings, that are impeccably stylish and sober, as well as being capable of having a strong impact and personality. The ability to make any setting special derives from the meticulous attention to detail and the impeccable craftsmanship of the finishes, but above all from the sensitivity which joins these various inspirations harmoniously and with measure.